This article may contain compensated links. For more information read our disclaimer here.
∗This post was updated on 12 January 2020
If you like ancient ruins and natural wonders of the world, then you'll have a blast with these fun things to do in Pamukkale.
Pamukkale town is home to one of the most popular Turkey tourist attractions – the dazzling white Pamukkale travertine terraces.
This amazing natural wonder is considered a must-see when you visit Turkey. But, on our last Turkey trip we didn't visit Pamukkale as the travertines had been damaged by mass tourism.
Pamukkale hotels had been built on the summit and were diverting the water to fill their swimming pools, damaging the white cliffs and making them dirty.
We weren't going to contribute to that.
Since then the government has stepped in. The hotels are gone. The water is flowing. And human access is properly controlled.
Thankfully, the travertines have recovered and are once again sparkling white.
Pamukkale tourism is now making a come back, so this time around we made sure to check it out. And we were delighted with all the top things to do in Pamukkale Turkey.
If you're looking for Pamukkale reviews then this Pamukkale blog post is for you!
Not only do we list the best Pamukkale places to visit and the most popular Pamukkale tourist attractions, we've also included some important Pamukkale tips so you can get the most from your trip.
So if you're wondering what to see in Pamukkale keep reading our Pamukkale travel blog.
If you need a place to stay for your Pamukkale trip. Click here for the latest prices and more information on the best Pamukkale hotels.
6 Fun Things To Do In Pamukkale
1) Take A Dip In The Pamukkale Thermal Pools
The number one must do in Pamukkale is to explore the spectacular travertines.
The word Pamukkale means cotton castle. And from a distance, the terraces look like a castle made of fluffy white cotton.
They are an incredible sight, and we had a ball traipsing over the terraces and paddling in the Pamukkale pools.
The mineral-rich water has health-giving properties and you're allowed to take a dip in the warm water.
We only paddled our feet but we saw people coating themselves from head to toe in mud!
Pamukkale Turkey Facts – The Pamukkale Travertines (Turkey Cotton Castle)
The travertine pools of Pamukkale Turkey were formed in the same way as stalactites in limestone caves.
For centuries mineral-rich water has flowed over the cliffs creating calcium deposits on the steep slopes.
These deposits fan out into a series of blinding white terraces that have pools of stunning blue water.
Tips For Visiting Pamukkale Hot Pools
Most tourists visit from the coast on a Pamukkale tour – usually arriving in the late morning or early afternoon. So it's a good idea to avoid these times.
There are three entry gates but we recommend using the gate closest to the village. This way you can start at the bottom and walk up through the terraces and enjoy the views along the way.
Bring a bag to carry your shoes in as they aren't allowed to be worn on the terraces.
There aren't any change rooms so wear your bathers under your clothes.
You'll also need to bring a towel to dry off.
Wear sunglasses as the travertine glare can be strong.
There's a lovely area at the top with a cafe where you can rest and have something to eat and drink.
A quick safety tip for your Pamukkale trip: Tread carefully. The travertine floor can be slippery in places and some of the limestone pieces have sharp edges.
2) See The Ruins Of Hierapolis Pamukkale
We were looking forward to seeing the Hierapolis ancient city as traipsing around ruins is one of our favourite things to do in Turkey.
But our travel weary bodies  (read Audrey's) were too darn tired to see it all. We did go for a bit of a wander though and we're glad we made the effort.
If you like ancient ruins then you'll have fun visiting Pamukkale and Hierapolis.
What Is Pamukkale Hierapolis?
Resting on a plateau above the Pamukkale terraces is the ancient city of Hierapolis. Believed to have been founded by the god Apollo, the name Hierapolis means "sacred city" after its masses of temples.
It was famous for its mineral pools and much like today people flocked to the city to bathe in the Hierapolis hot springs hoping it would cure their medical conditions.
The city's origins date from the 2nd century BC but most of the Hierapolis ruins date from the Roman period.
In 60 AD an earthquake destroyed the former city. It was rebuilt and continued to prosper until another earthquake struck in 1334 when it was completely abandoned.
What remains are castle ruins, a Byzantine church, Necropolis, city walls, a collonaded street, and the Hierapolis theatre.
Be sure to add the ruins of Hierapolis to your Pamukkale sightseeing list!
The Hierapolis Turkey Theatre
The Hierapolis Theatre is one of the most impressive things to see in Pamukkale. From below it looked less than impressive as the area was littered with building materials and restoration works.
It's reached by a sweat-inducing walk up a hill, and I must admit I was reluctant to make the effort. But I'm glad I did as it's truly stunning.
This Pamukkale must-see is said to have the best-preserved decorative features of any theatre in Turkey.
The amphitheatre was able to hold up to 10,000 people who came to enjoy concerts, religious ceremonies, and competitions. The front row seats were reserved for dignitaries and distinguished spectators. (Some things never change…)
The stage itself is blocked off and I was disappointed we weren't able to take a closer look. But gosh, here we were sitting in the same seats that people sat in a millennium ago.
So we sat and enjoyed the view for a while.
3) Swim In The Hot Pamukkale Pools (Cleopatra's Pool)
A soak in Pamukkale Cleopatra's Pool was just what we needed to soothe our travel weary muscles – just like the Romans did! It's like soaking in a warm bath with the mineral-rich water sitting at a steady thirty-six degrees.
This is one of the really fun places to visit in Pamukkale, and the thing I liked best was that you get to paddle amongst centuries-old columns and marble blocks.
Apparently, they fell into the pool during an earthquake and nobody has bothered to remove them. So visitors get to have fun crab crawling – and grazing their knees – all over them.
Tips For Visiting Pamukkale Hot Springs Turkey:
The antique pool costs extra as it's not included in Pamukkale tickets.
You can only go in the pool once which makes it expensive. But you can stay in as long as you like.
There are change rooms available but you need to bring your own towel.
A locker is included in the price of your ticket. You need to show it to an attendant in the locker area so don't throw it away.
4) See The Pamukkale Travertine At Sunset
The travertines shimmering icy palette is stunning during the day but at sunset, Pamukkale is a riot of colour.
We've experienced many incredible sunsets around the world. Often it doesn't live up to the hype so it wasn't something we were planning to do.
But time got away from us and we were there for sunset anyway, and it didn't disappoint.
With its otherworldly landscape and glistening pools, a Pamukkale sunset has a magical quality unlike any other.
5) Paragliding Turkey Pamukkale: See Cotton Castle Pamukkale From Above
Not only can you enjoy a soak in the Pamukkale water terraces, but you can get a bird's eye view of the travertines and Hierapolis ruins by paragliding Pamukkale.
And if running off a mountain into thin air sounds like fun for you there are companies offering Pamukkale tandem paragliding.
We aren't thrill-seekers but we loved watching the paragliders. Their bright colours were striking against the blue and white travertines of Pamukkale and we thought they looked like giant butterflies floating in the sky.
I can only imagine what the view looks like from up there!
If this is one of the Pamukkale activities you'd like to do, make sure you check a company's safety record and insurance before booking them. We've heard good things about this company.
Or try asking at your hostel or hotel's reception for recommendations as they should know who the best operators are.
Make sure you have travel insurance and that you're covered for this type of activity. We use World Nomads for all our travels and love how easy they are to use.
See World Nomads for more information and a no-fuss quote.
6) Pamukkale Nature Park
If you have a spare hour or two take a wander down to the outdoor nature park.
Set at the bottom of the travertines the natural park Pamukkale is a wonderful way to see Turkish families spending time together.
If you're lucky you might see some brides wandering around as it's a popular spot for weddings.
There are paddle boats that you can take out on Pamukkale lake, just be sure to keep an eye out for ducks – there's a lot of them.
The nature park is an ideal spot for a picnic or there's a cafe where you can grab a bite to eat.
Either way, everyone seems to end up walking around with an ice-cream in their hands.
There's also a pool with water slides for the kids.
Extra Tips For Your Cotton Castle Pamukkale Visit
Best Pamukkale Hotels
There's a variety of Pamukkale Turkey hotels available in both luxury and budget style accommodation. Here's a few of the best to choose from.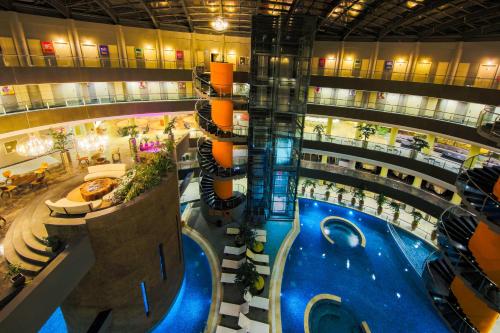 If you're looking for luxury Pamukkale accommodation then Doga Thermal Health Spa is a great choice.
The luxurious facilities include a spa, sauna, authentic Turkish bath, fitness centre, and relaxing massage treatments. Just perfect after a day on the travertines of Pamukkale.
Click here for more information about Doga Hotel Pamukkale.
Othe features of Doga Hotel include free Wifi throughout the property, a beautiful lush garden, and both an indoor and outdoor pool.
The daily breakfast is served buffet style and you can enjoy lunch and dinner at the on-site restaurant. A top choice for the best hotel in Pamukkale.
Click here for the latest prices and to read more reviews for Doga Thermal Hotel Pamukkale. 
The Hotel Venus is well located within a 10-minute walk of the best places to visit in Pamukkale Turkey.
This clean and modern hotel features a pretty garden, terrace, free Wifi in all areas, and a great pool. There's a daily buffet breakfast and a la carte restaurant serving traditional home-style food.
Guests are welcome to use the Venus Suites free shuttle bus to and from the travertine entrance gate.
Click here for more information about Venus Suites Hotel. 
Each room at Venus Suite Pamukkale features air conditioning, a mini bar, electric kettle, bathrobes and a balcony.
Click here for the latest prices and to read more reviews for Venus Hotel Pamukkale.
Located in Pamukkale village just 20 metres from the travertines and nature park, Hotel Sahin is a great budget option.
Each room is equipped with air conditioning, a television, free Wifi, and a seating area. Some rooms have a private balcony and offer fabulous views of the terraces.
A highlight of this Pamukkale accommodation is the refreshing outdoor pool, that's great for cooling off after a day of sightseeing.
Click here for more information about Hotel Sahin.
Hotel Sahin Pamukkale provides a traditional Turkish breakfast. Drinks and meals can be enjoyed on the terrace with panoramic views of the lake and travertines.
Click here for the latest prices and to read more reviews for Sahin Hotel Pamukkale Turkey.
Another great budget option is the Mustafa Hotel, it's cheap and clean and only a minute's walk to the lower gate.
Click here for more information and the latest prices for the Mustafa Hotel Pamukkale.
Pamukkale is a tiny village, if you like things lively then we recommend staying in Denizli. It's easy to visit the Pamukkale attractions from there.
Click here for more information and to find the best places to stay in Denizli.
Where to eat
We'd read that guesthouses have the best food in Pamukkale – not the restaurants.
But we tried the restaurants anyway. And after two disastrous meals, we stuck to eating at Mustafa's Guesthouse Restaurant.
The stuffed peppers were a favourite of ours and we ate them once, twice, three times?
Where is Pamukkale in Turkey? 
Pamukkale is located in the South Central Aegean Region of Turkey.
It's about nineteen kilometres from Denizli and a two and a half-hour drive from Kusadasi near Ephesus.
The distance to Pamukkale Turkey from Istanbul is 619 kilometres.
How To Get To Pamukkale
There is no Pamukkale airport.
But both Pegasus and Turkish airlines fly from Istanbul to Denizli-Cardak Airport. The flight takes one hour.
Turkey has a well-organised and comfortable network of inter-city buses that makes travel around Turkey a breeze.
Popular bus routes to Pamukkale go via Denizli from Antalya, Marmaris, Bodrum, and Kusadasi.
From the Denizli Otogar bus station, you can jump on a Pamukkale bus or dolmus.
The buses leave every few minutes and the journey takes around forty minutes.
A Denizli to Pamukkale taxi will set you back around $US14.00.
There's even a railway service between Izmir and Denizli that goes via Selcuk.
The Best Time To Visit Pamukkale
The Pamukkale weather at different times of the year can be extreme.
The Aegean summer heat can be unbearable and it can even snow in Pamukkale in winter.
Not good for traipsing the travertines in bare feet!
Spring – April to June – sees moderate dry weather with longer days to enjoy your time on the terraces.
And your feet are less likely to turn blue!
Pamukkale Entrance Fee And Opening Times
You can do your Pamukkale sightseeing from April 1 – October 1 (Summer) between 6.30 a.m – 9.00 p.m.
And 06.30 a.m – 5.00 p.m for the rest of the year.
It costs 50 Turkish Lira/ 9 US Dollars for an adult Pamukkale ticket.
Hot Springs Of Pamukkale Entrance Fee And Opening Times
Cleopatra's Antique Pool is only open in summer. You can visit between the hours of 8.00 a.m – 9.00 p.m daily.
An adult ticket costs 50 Turkish Lira/ 9 US dollars. For children aged 6-12 years, it costs 13 Turkish Lira/ 2.30 US dollars.
Children under 6 years of age are free.
If you don't swim you can visit the spa resort free of charge. There are tables and chairs where you can chill out and enjoy a drink and snack.
So now you know what to do in Pamukkale, Turkey are you going to visit soon?
For more information about visiting Turkey, we recommend reading our post on 8 Turkey Highlights That'll Blow Your Mind.
Disclaimer: As an Amazon Associate we earn from qualifying purchases.